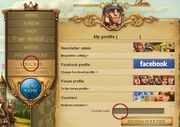 Description
The Voucher Claim system is one that allows the developers to reward users with gifts for certain activities.
Vouchers have been gifted to players for:
The voucher claim system is located on the main website and not inside the game itself.
If you have a voucher to claim you need to:
If you aren't logged in already you need to log in.
Click VOUCHER in the left menu.
Enter the exact code into the grey Voucher Code slot.
Press REDEEM VOUCHER button.
Wait for it to register and get a success message.
Log into the game and wait for a new email.
Open the email and Accept the Reward which will be added to your Star Menu.

Gifts tend to be in the form of premium resource and productivity boosts, such as the Cheese Sandwich.
Ad blocker interference detected!
Wikia is a free-to-use site that makes money from advertising. We have a modified experience for viewers using ad blockers

Wikia is not accessible if you've made further modifications. Remove the custom ad blocker rule(s) and the page will load as expected.