The Lost Skull
Comments

9
526pages on
this wiki
The Lost Skull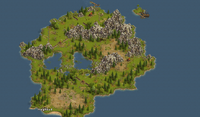 A letter from King Damien arrived this morning. We are to travel to Skull Island and stop a bunch of young pirates finding a lost treasure! I'll tell you more about it all when we arrive! Off we go to Skull Island!
General Information
Type:
Experience
Players:
1
Difficulty:
2
Duration:
2 days
XP:
3,020
V • E • D
Requirements
Units Required:

270R, 40M, 100S, 181C

283R 140S 185C

Units Required with 250 General:
180R, 180S, 240C
If you're having trouble getting Soldiers, they can be replaced with Militia. Confused? See "What do these letters mean?" There's a quest within the adventure that awards 300 experience. After beating the first camp, the quest appears. Simply click on the four ruins located in the North, South, East, and West on the map, to complete the quest. Be sure to claim the reward in the questbook.
Note that the following background colours are used in the guide below for different Generals:
Guide
Below is a guide to attacking the camps in the adventure. Note that these numbers are provided only as a guide, and care should always be taken, as in-game values or attack paths can change at any time.
Bandits
The following bandits are found in The Lost Skull adventure.
Rewards