Stealing from the Rich
Comments

14
534pages on
this wiki
Stealing from the Rich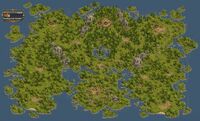 A very concerned landlord has written a letter to you. One of his previously loyal master archers has turned rogue, living in the forest and stealing gold from rich merchants and nobles. With it, he bribes simple peasants into rioting. You have to stop this at once!
V • E • D
Description
Excellent XP & Rewards but fairly high losses. Watch out for hidden Wolf packs in the forests (many can be avoided but some need dealing with). Also Watchtowers pose zero threat to 200 Cavalry but take many minutes to defeat.
There is an approximate 3% chance that among the rewards for completion  will be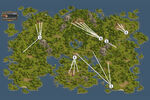 the White Castle premium item that gives a non upgradable +50 to Population Limit.
Requirements
Achievements
| Name | Requirements | Trophies | Reward |
| --- | --- | --- | --- |
| Rich but Careless | Complete "Stealing From The Rich" in less than 18 hours | 40 | |
| They were rich | Complete "Stealing From The Rich" in less than 6 hours | 100 | |
| Poor Men, Better Fighters | Complete "Stealing From The Rich" while losing less than 100 Soldiers | 80 | |
| Slowly but Surely | Complete "Stealing From The Rich" without losing any Cavalry | 80 | |
Guide
Bandits

Rewards