Stealing from the Rich
Comments

14
526pages on
this wiki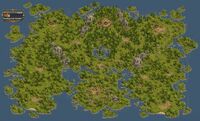 Stealing from the Rich Adventure
| | |
| --- | --- |
| Units Required: | 1052R / 200C / 188S |
| Units Required [Vet]: | 701R, 240C, 188S |
| Days to complete: | 4 |
Excellent XP & Rewards but fairly high losses. Watch out for hidden Wolf packs in the forests (many can be avoided but some need dealing with). Also Watchtowers pose zero threat to 200 Cavalry but take many minutes to defeat.
There is an approximate 3% chance that among the rewards for completion  will be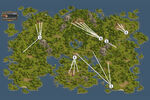 the White Castle premium item that gives a non upgradable +50 to Population Limit.
ALERT
Since the new pathing system came in we have reworked the map and actually shaved off a few losses.
Sector
Enemy
Attack With [Vet](MMA)
Expected Losses [Vet]

Move a garrison to far West of the landing area, watch for hidden Wolves marked X.

Sector1
30 Recruit, 40 Bow
1S 199C
0

Attack from same position through this sector into the one to the North.
Sector2
40 Wolves

1R, 40S*

To save time one can ignore this attack and directly attack the leader camp with the stated army(below). The general will be intercepted but will not change the outcome of victory of either camps.

1R

Robin, 20 Elite, 20 X, 20 Can

98R, 102S

[190R, 60S]

(65R,155S)

97R

[72R]

(65R)

Place garrison in Sector 2 NW of the Leader camp of Sector 1
Sector1
65 Recruit, 85 Bow

26R, 1S, 173C

[30R, 220C]

(17R,1S,202C)

22R

[18R]

(17R)

Move below wolves and use this position to clear both sector 4 and 5.
Sector4/5
120 Wolves
7R, 120S
7R

85 Recruit, 65 Bowman

37R, 40S, 123C

[30R, 220C]

(25R,1S,194C)

36R

[25R]

(25R)

20 Milita, 60 Longbow

2R, 1S, 197C [30S, 220C]

(220C)

2R [0]

(0)

40 Milita, 40 Longbow

19R, 1S, 180C

[10R, 240C]

(9R,1S,210C)

14R

[9R]

(9R)

Robin, 40 Milita, 40 Longbow

138R, 62S

[210R, 40S]

(78R,142S)

108R

[94R]

(78R)

Move to East of sector, note wolf packs, and attack down the avenue to the watchtowers with 200C without losses or the need to retreat.
Sector6
140 Wolves
9R, 188S
9R

30 x2
78C
0
Robin, 50 Long, 50 Soldier

W1:173R

[130R, 120S]

(105R,115S)

W2: 28R, 172S

W1:173R

[125R] (105R)

W2: 13R

30 x2
78C
0
Robin, 30 Cav, 40 Long, 30 Sol

137R, 63S

[110R, 140S]

(82R,138S)

120R

[94R]

(82R)

* Note you can avoid the wolfpack if you clear the last pair of towers by attacking the final Leader and getting distracted, but for the sake of 9R it's hardly worth it.
For some reason doing the previous sector first allows you to place your garrison higher up in this Sector, even before you finished it.
Sector3
60 Milita, 20 Longbow

41R, 1S, 139C, 19LB or 34R, 5S, 161C

[33R, 217C]

(25R,1S,194C)

29R

[22R]

(25R)

40 Milita, 40 Longbow

31R, 1S, 164C, 4LB or 18R, 1S, 181C

[30R, 220C]

(9R,1S,210C)

16R

[9R]

(9R)

Robin, 40 Milita, 40 Cavalry

101R, 99S

[90R, 160S]

(82R,138S)

89R

[74R]

(82R)

Position garrison above sector, take out hidden wolves then the 4 guard towers with 200C for zero losses and no need to retreat when you attack them.
Sector7
200 Wolves
13R, 187S
13R

15 x 4
95C
0
Big Bertha, 50 Cav, 50 Longbow, 50 Soldier

W1:176R

[130R, 120S]

(101R,119S)


W2: 17R, 183S

W1: 176R

[121R] (101R)

W2: 13R

Total Expected Losses
>> >> >> >> >> >> >> >>
>> >> >> >> >>

929R

[693R]

Rewards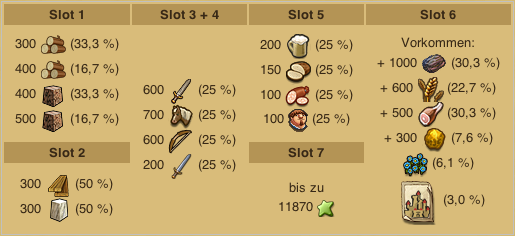 Enemies