Residence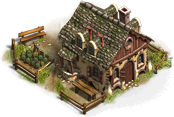 V • E • D
Description
The basic Residence is a little building in which your Settlers can live. Adding more Residences takes up Building Licences but also increases the maximum amount of Settlers you can have on your island. The basic house gives +10 to the Population Limit and +10 for every upgrade.
Hover over the Settler face on the Top Bar of the game to see how many Setters you currently have and what the maximum is. New Settlers arrive every 15 minutes and it is wise to keep the maximum amount higher than the current level so you are constantly accumilating new Settlers.
Upgrading Residences is not recommened at the start of the game, it is better to just build more residences as fairly soon you will have access to the Noble Residence which houses far more Settlers for relatively few extra resources.
Summary
| Resources | Produces | Consumed | Cycle | Construction |
| --- | --- | --- | --- | --- |
| 40    60   | +10 Population | N/A | N/A | 1 min. 30 sec. |
Upgrades
Building Movement Costs
Appearance
Residence
Level 1
Level 2
Level 3
Level 4
Level 5
Ad blocker interference detected!
Wikia is a free-to-use site that makes money from advertising. We have a modified experience for viewers using ad blockers

Wikia is not accessible if you've made further modifications. Remove the custom ad blocker rule(s) and the page will load as expected.