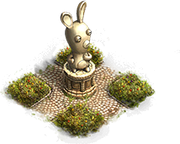 Description
The Raving Rabbid Statue is a decoration that first appeared during the Easter Event in 2012. After the event, it became available in the Merchant Chest for 600 Gems.
When placed on your island, and then clicked on, the statue will emit a scream.
Ad blocker interference detected!
Wikia is a free-to-use site that makes money from advertising. We have a modified experience for viewers using ad blockers

Wikia is not accessible if you've made further modifications. Remove the custom ad blocker rule(s) and the page will load as expected.