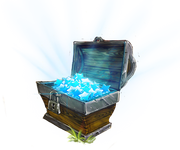 Description

Premium Accounts were introduced to the game on Thursday 5th September 2013.  They are bonus periods that can be purchased for gems. While a Premium Account is active, the player will receive several benefits. The time remaining is shown below your avatar (top-right of the screen), and in the extra slot in your build queue.
Quests
When you become eligible to purchase a Premium Account you will start the Premium quest chain, and find 1 free premium day in your star menu. Upon completion of the quest chain, you will receive another 1 premium day.
Prices
The following premium days can be purchased in the Merchant Chest.
Benefits
While a Premium Account is active, the following bonuses are active:
+50% XP (or Star Coins) from Adventures
+50% loot from Adventures (not including Buildings, Decorations or Follow-up Adventures)
+1 Build Queue Slot
+10% buff time on friend zones (in addition to the 50% increase of buff time they get already)
+1 additional daily quest per day
For an adventure to get the premium benefits, the premium period needs to be active when you acknowledge final quest of the adventure to be complete. Lootspotters also get the loot multiplier if they have Premium Account active when the adventure finishes.
Ad blocker interference detected!
Wikia is a free-to-use site that makes money from advertising. We have a modified experience for viewers using ad blockers

Wikia is not accessible if you've made further modifications. Remove the custom ad blocker rule(s) and the page will load as expected.