Ad blocker interference detected!
Wikia is a free-to-use site that makes money from advertising. We have a modified experience for viewers using ad blockers

Wikia is not accessible if you've made further modifications. Remove the custom ad blocker rule(s) and the page will load as expected.
Pinewood Forester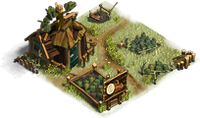 V • E • D
Description
The Pinewood Forester is the other half of the basic Pinewood production chain with the Pinewood Cutter.
Place foresters halfway between the Storehouse and the current pinewood forests to keep them planted with nice adult trees to be cut down for logs.
Foresters are easily over looked but placement of the right ratio of foresters to cutters will ensure an endless supply of Pinewood.
Summary
| Resources | Produces | Consumed | Cycle | Construction |
| --- | --- | --- | --- | --- |
| 10   | 1 | | 2 min. 15 sec. | 10 sec. |
Upgrades
Building Movement Costs
Ratios
Appearance
Pinewood Forester
Level 1
Level 2
Level 3
Level 4
Level 5