Motherly Love
Comments

5
373pages on
this wiki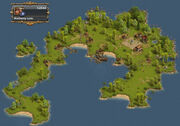 Motherly Love Adventure
| | |
| --- | --- |
| Units Required: | 293R, 74S, 100B, 356C, (90LB or 101XB) |
| Units lost 949 (or: 790) | 293R, 100B, 90LB, 111S (or 0 LB, 41S), 356C |
| Units Required (vet): | 279R, 220S, 100B, 356C, 140XB |
| Units lost 763 (vet): | 279R, 28S, 100B, 356C |
| Days to complete: | 2 |
| Players: | 2 |
Some great rewards for some rather tough mixed troop losses and so is better for higher level players who can take those losses. As you can see there are very few battles as it all takes place in a single sector but there are 3 hidden camps to deal with.
You can move your generals to the south and block the first camp to allow your attacker to slip by around the West coast of the island but it's it's very tricky and the timing has to be spot on.. so our guide shows the easy and more troop costly way.
In a recent update some of the rewards were Nerfed as they were unintentionaly over powered for the map.
Update 16/6/2013 by [INTL]Kruisdraad: There was no plan to cut the losses using a vet, so i've made the calculations and tried this once and this worked. This will save you an additional 13S and 14R vs the normal general/xbow option. You might wanna double check these attacks with the combat sim and report back your idea's and/or improvements.
Sector

Enemy

Attack With

Sector1
100, 100

Wave 1: 100B [same] (Loss 100B)

Wave 2: 159R, 41S (Loss 159R, 1S) [170R, 80S] (Loss 134R)

There are 3 hidden traps in the map and all are indicated in the image below. To make sure you target the right camp click on it again right after you attack to make sure.

200

200

100

100R, 41S (Loss 19R) [30R, 220S] (Loss 13R)

80R, 41S (Loss 20R) [30R, 220S] (Loss 13R)

60R, 41S (Loss 25R) [30R, 220S] (Loss 16R)

Normal general: This final battle is tough on soldier and cavalry losses. I've tried numerus ways to do this and this is sadly the least number of losses i can find.

Round 1 (3R, 197C) The aim here is to clear the gunmen and a bite out of the Officers.


Round 2 (30R, 159C)  you should tailor your attack to clear all remaining Officers and while my suggestion will work you can save on horses by checking for exact numbers. If 29 Officers are left you can use (29R 155C) saving 4 horses.


Round 3 If you have access to Crossbows you can use them and save around 40 Soldiers and no Crossbow losses... otherwise expect to lose 100-110 Soldiers and 0-24 LB.

Wave 1: 3R, 197C [same]

Wave 2: 30R, 159C [same]

Wave 3 with normal gen: 110S, 90LB or 26R, 73S, 101XB

Wave 3 with Veteran gen: [70R, 40S, 140XB] (Loss 70R, 28S)
REWARDS