Map Fragment

A part of a map.
V • E • D
Description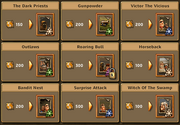 Map Fragments are the result of the majority of Explorer Searches for Adventures.
When an Explorer does not find an adventure outright he will instead bring home a certain amount of Map Fragments. The amount of Map Fragments that the explorer finds depends on the length of the search. For example: a short search will yield 3 Map Fragments but a medium search will yield 6!
The Map Fragments can be spend on Adventures in the Merchant Chest. The more difficult the adventure, the more map fragments it will cost. Besides this it can also be spend on random resources in the Black Market section.
Ad blocker interference detected!
Wikia is a free-to-use site that makes money from advertising. We have a modified experience for viewers using ad blockers

Wikia is not accessible if you've made further modifications. Remove the custom ad blocker rule(s) and the page will load as expected.