Iron Weaponsmith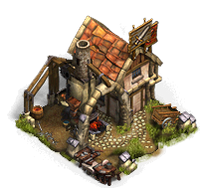 V • E • D
Description
The Iron Weaponsmith takes the Iron from the Iron Smelter, adds a few nuggets of Coal and produces an Iron Sword for the production of the Militia unit at the Barracks, which needs 10 swords per unit.
Iron Smelters and Iron Weaponsmiths are very Coal intensive and in the long run you won't be using Milita in any great numbers and so upgrading the Iron Weaponsmith is not a priority.
As with other production buildings its output can be temporarily doubled with a Buff and can be permanently upgraded with resources.
Summary
| Resources | Produces | Consumed | Cycle | Construction |
| --- | --- | --- | --- | --- |
| 400    400    450 | 1 | 2    8 | 12 min. | 7 min. 30 sec. |
Upgrades
Building Movement Costs
Ratios
Appearance
Iron Weaponsmith
Level 1
Level 2
Level 3
Level 4
Level 5
Ad blocker interference detected!
Wikia is a free-to-use site that makes money from advertising. We have a modified experience for viewers using ad blockers

Wikia is not accessible if you've made further modifications. Remove the custom ad blocker rule(s) and the page will load as expected.