Hunter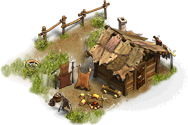 V • E • D
Description
The Hunter is used to gather Meat from the Meat Deposits that are dotted around the island.
Meat Deposits take the form of Deer Forests that can be harvested by a Hunter. The Deposit can be replenished by the production of Musk Deer Fragrance in the Provision House using Fish and Water.
Meat Deposits can be found in groups of trees and the Hunter will get this from the nearest meat deposit and gathers it for the production of Sausages.
Summary
| Resources | Produces | Consumed | Cycle | Construction |
| --- | --- | --- | --- | --- |
| 500    300    200 | 1 | 1   | 6 min. | 7 min. 30 sec. |
Upgrades
Building Movement Costs
Ratios
Production Ratios:
2 Hunters > 1 Butcher
This alters with upgrades.
Tips
Try to group all your hunters around a single deposit. This lets you focus on only one refill, and see your entire production easily.
Appearance
Hunter
Level 1
Level 2
Level 3
Level 4
Level 5
Ad blocker interference detected!
Wikia is a free-to-use site that makes money from advertising. We have a modified experience for viewers using ad blockers

Wikia is not accessible if you've made further modifications. Remove the custom ad blocker rule(s) and the page will load as expected.