Below the bottom menu bar is a list of your friends.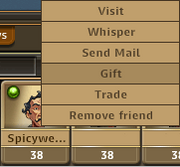 Your list of friends is sorted by Level and then Alphabetically. Clicking a friends portrait gives you a set of options for interacting with them:
Visit: Visit their island to view it and buff their buildings.
Whisper: Chat privately with online friends.
Send Mail: Send them an email if they are on or offline
Gift: Send them a Gem / Special Item bought item from the Store .
Trade: Send them a Direct Trade offer.
Remove Friend: Remove them from your friends.
While a big circle of friends makes any social game more rewarding you should be aware of potential Scams associated with adding random friends. See the Scams section for details.
Interface
At either side are arrows to move up and down your friends and the buttons just inside that on the right are to filter those friends between All, Just Friends and Just fellow Guild members.
The three buttons on the left side are, in decending order:
Find and Add Friends: Type your existing player friends names to locate them from the list and Send them an email offering to become friends. On acceptance their portrait is added to the central bar of faces. Friends can also be added via clicking their name in Chat.
Invite Via Email: Invite friends from outside the game to join in the fun.
Return Home: Handy way to easily get home from visiting a friend or an Adventure.
Ad blocker interference detected!
Wikia is a free-to-use site that makes money from advertising. We have a modified experience for viewers using ad blockers

Wikia is not accessible if you've made further modifications. Remove the custom ad blocker rule(s) and the page will load as expected.