First Group Stage Match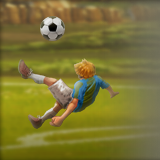 So, this will be our first real match. Our opponent is the Barony of Tepidwater. Much like us, they haven't played many matches yet. Folks say the barony is playing a very offensive 4-3-3 system. We should keep an eye on their midfielders, but at the same time watch out for their three strikers. The Baron of Tepidwater has some strong players in his team.
General Information
Type:
Football Event
Players:
1
Difficulty:
3
Duration:
12 days
V • E • D
Decription
First Group Stage Match is an Adventure which is part of the World Cup 2014 Football Event.
It is the second of seven adventures that are received during the event, from the Event Calendar, and is received on the fourth day of the event.
Like all football adventures, there are 11 enemy 'camps' to destroy.
Map
Coming Soon...
Guide
Ad blocker interference detected!
Wikia is a free-to-use site that makes money from advertising. We have a modified experience for viewers using ad blockers

Wikia is not accessible if you've made further modifications. Remove the custom ad blocker rule(s) and the page will load as expected.