This page is for the Easter Event 2014. For other Easter Events, see Easter Event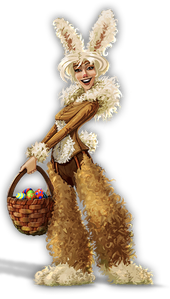 Description
The Easter Event 2014 is a time during which the game is filled with Easter-related adventures and items. It is an annual occurrence, which introduces Eggs as the event currency.
Dates
The Easter Event runs for three weeks, with the Easter Eggs and Easter Items remaining available in the Merchant Chest for 1 week after the event.
Easter Event 2014 Dates
Test Server Date
Wednesday 27th February
Start Date
Wednesday 9th April
End Date
Wednesday 30th April
Removal
Wednesday 7th May
Easter Currency
Easter Eggs are the main currency used to buy Easter-related items. You can get them from the Explorer, completing Easter quests, trade, or buy them in the Merchant. If you buy them, you have the following options:
| Icon | Name | Cost | Provides |
| --- | --- | --- | --- |
| | Small Easter Egg Basket | 295 | 100 |
| | Big Easter Egg Basket | 895 | 300 |
Easter Specialists
The Easter Event makes it possible to buy the following specialists in the Merchant Chest, for Easter Eggs:
Easter Items
The following items all become available in the Merchant Chest during the Easter Event.
| Icon | Name | Description | Cost |
| --- | --- | --- | --- |
| | Watermill | Build a watermill, which produces unlimited water. Max of 5 are available. | 275 |
| | Floating Residence | A residence that can be built on water. Holds 40-80 settlers. Max of 3 are available. | 75 |
| | Insprirational Speech | Use on a workyard to increase the effectiveness of workyards in a three square radius around it, threefold for 12 hours. | 245 |
| | Rabbit Lucky Charm | Buff to triple the output of any production building. | 145 |
| | Mineral Rabbit | Add 6,000 Coal to a deposit. | 75 |
| | Rabbit Farm Field | A field containing 6,000 Wheat. | 75 |
| | Chocolate Rabbit | Provision House buff which halves production time. | 45 |
| | Raving Rabbid Statue | A decoration which screams when you click on it. | 195 |
| | Garrun the Trapper | A 1-player adventure. | 95 |
Easter Adventures
This year, there are two types of adventure.

Garrun the Trapper
is a 1-player
Adventure
, which can be purchased from the Easter tab of the
Merchant Chest
, for  
95
Gems
. It is a short (12-hour) adventure, with a difficulty rating of just four skulls.

Easter Adventures are special adventures that don't require the player to attack bandits. The object of each adventure is simply to find, and click on, hidden Easter Eggs.
These adventures work a little differently to last year, in that egg placement in the adventure is now random, and when you click on a hidden egg, you will receive a single Easter Egg in your mailbox.
The adventures can change from year to year. The 2014 Easter Adventures are:
Easter Quests
For more information about these, see the Easter Quests page.
Easter Collections
There are three new 'collectibles' that can be found on your island. These were smaller than normal collectibles, which made them harder to find, but on 11th March 2014, these were enlarged on the Test Server, before they reached the live servers. Both the old, obsolete image, and the new are shown below for comparison:
Old
Image
New
Image
Icon
Name
Egg Paint
Wicker Basket
Simple Egg
The following Collections are also available from the Mayor's House:
Icon
Name
Requires
Lv
Time
Details
Festive Egg Basket
25
25
25
16
1 Hour
Use on the Mayor's House to get 10 Easter Eggs.
Hidden Egg Hunt
25
25
25
26
1 Hour
Use on a friend's Mayor's House to start an egg-hunt. When your friend has found the 10 hidden eggs on their island (before the 12-hour timer expires), then you both will receive  10 Easter Eggs
Rabbids

For the duration of the Easter Event, wild Rabbids will wander about all over your Home Island. They cannot be removed, clicked on or interacted with in any way. They also will not interfere with the working of any building or settler.
Easter Graphics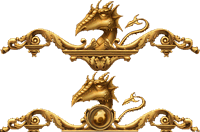 During the Easter Event, there are a number of changes to the in-game graphics. These reflect the Easter theme.
The loading screen features the guy in the bunny suit, and in-game graphics have egg-related changes (see image on right). 
Ad blocker interference detected!
Wikia is a free-to-use site that makes money from advertising. We have a modified experience for viewers using ad blockers

Wikia is not accessible if you've made further modifications. Remove the custom ad blocker rule(s) and the page will load as expected.