Copper Smelter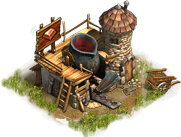 V • E • D
Description
The Copper Smelter takes the raw Copper Ore, adds a nugget of Coal and produces a useable ingot of Bronze that can be fashioned by the Toolmaker and the Bronze Weaponsmith into useful items.
A very important building to balance with the Bronze Weaponsmith to ensure a continuous flow of Bronze Swords for your army.
As with other production buildings its output can be temporarily doubled with a Buff and can be permanently upgraded with resources.
Summary
| Resources | Produces | Consumed | Cycle | Construction |
| --- | --- | --- | --- | --- |
| 50    50   | 1 | 1    1 | 6 min. | 2 min. |
Upgrades
Building Movement Costs
Ratios
Appearance
Copper Smelter
Level 1
Level 2
Level 3
Level 4
Level 5
Ad blocker interference detected!
Wikia is a free-to-use site that makes money from advertising. We have a modified experience for viewers using ad blockers

Wikia is not accessible if you've made further modifications. Remove the custom ad blocker rule(s) and the page will load as expected.