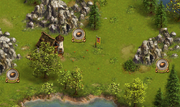 Description
Collections allow you to collect items during adventures, and use them to gain new items.
Collectible items are found all over the map on you home island, and during adventures - they appear in the areas you have explored.
Collectible items appear on your home island "a few times each day".  In fact, new collectibles will respawn on your Home Island exactly 8 hours after you 'find' the first one.
As the above suggests, everyone's collectibles spawn at a different time, depending on when they last collected them.
Once clicked on, you will gain between 1 and 5 of the item, which will go into your storage and count towards your Collection completion.
Collections can be found in the Mayor's House Collections tab. They are unlocked and become available to you based on your level.  Storehouses do NOT have the Collections tab.
Once you have all the ingredients, you can start producing a Collection.
Once completed, your Collection item will be stored in the appropriate section of your Star Menu.
You can use the item from there to buff your appropriate buildings or use any other effects it might have.
Collection Items
Below is a list of items that can be found on your Home Island or on Adventures and the level at which they become available for collection:
Event Collectables
These items could/can only be collected during the specified event.
Finding Collectibles
Collectibles are often well hidden on your map, and sometimes can be behind trees, rocks and even buildings.  If you are unable to see where a collectible is on your map, then you must move your mouse pointer over every tree, rock and building to find it.
From 19th February 2014 on the Test Server, and 27th March 2014 on the main servers, some other methods for finding those difficult collectibles were provided:
Friend Assistance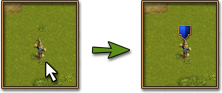 If you have a friend or fellow guild member who is good at finding the collectibles, then they can visit your map and click on the collectibles for you.  This then puts a bouncing blue arrow over the hidden collectible, making it much easier for you to find, especially if your friend tells you which sector it was found in.
Fairy Fire Buff

The
Fairy Fire
buff can be purchased from the
Black Market
section of the
Merchant Chest
for  
9
Gems
. When used, it will highlight
all
the collectibles on your island for 5 minutes by placing a bouncing blue arrow above them.
Fairy Light Buff
The
Fairy Light
buff can also be purchased from the
Black Market
section of the
Merchant Chest
for  
19
Gems
. It works in the same way as the Fairy Fire, but may be used only when in adventures for find Adventure Collectibles. When used, it will highlight
all
the collectibles on the adventure island for 5 minutes by placing a bouncing blue arrow above them.
Multi-Player Adventures
When playing a multi-player adventure, in which collectibles appear, any participating player can click on the collectibles around the map, but all participants will receive it.  This works as soon as all players have accepted the invitation.  Their General does not need to be present on the island.
So, for example, if Dave and Sue are playing a 2-player adventure and both have Generals on the map. If Dave finds a Bronze Cauldron and clicks on it, then both Dave and Sue will receive a mail containing Bronze Cauldrons.
When playing a multi-player adventure, it is polite to wait until all participants have accepted the invitation before collecting any of the Bronze Cauldrons, which can't be found on the Home Island.
Collections
Below is a list of the available collections that can be completed. The time column also shows the gem-cost to produce the collection immediately when you have all ingredients.
Ad blocker interference detected!
Wikia is a free-to-use site that makes money from advertising. We have a modified experience for viewers using ad blockers

Wikia is not accessible if you've made further modifications. Remove the custom ad blocker rule(s) and the page will load as expected.