Collections
Comment

1
364pages on
this wiki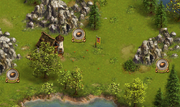 Description
Collections allow you to collect items during adventures, and use them to gain new items.
Collectible items are found all over the map on you home island, and during adventures - they appear in the areas you have explored.
Collectible items appear on your home island "a few times each day".
Once clicked on, you will gain between 1 and 5 of the item, which will go into your storage and count towards your Collection completion.
Collections can be found in the Mayor's House Collections tab. They are unlocked and become available to you based on your level.  Storehouses do NOT have the Collections tab.
Once you have all the ingredients, you can start producing a Collection.
Once completed, your Collection item will be stored in the appropriate section of your Star Menu.
You can use the item from there to buff your appropriate buildings or use any other effects it might have.
Collection Items
Below is a list of items that can be collected from adventures:
Event Collectables
These items could/can only be collected during the specified event.
| Appearance | Item Name | During |
| --- | --- | --- |
| N/A | Pumpkins | Halloween |
| | Candy Cane | Christmas |
| | Christmas Bell | Christmas |
| | Gingerbread | Christmas |
Multi-Player Adventures
When playing a multi-player adventure, in which collectibles appear, any participating player can click on the collectibles around the map, but all participants will receive it.  This only works if the other participants have actually landed a General on the Adventure.
So, for example, if Dave and Sue are playing a 2-player adventure and both have Generals on the map. If Dave finds a Scarecrow and clicks on it, then both Dave and Sue will receive a Scarecrow.
It does not matter if a general is wounded or not, it just needs to be present.
When playing a multi-player adventure, it is polite to wait until all participants have landed a General before collecting any of the collectibles, especially Bronze Cauldrons which can't be found on the Home Island.
Collections
Below is a list of the available collections that can be completed. The time column also shows the gem-cost to produce the collection immediately when you have all ingredients.