This feature is currently only available on the Test Server
Church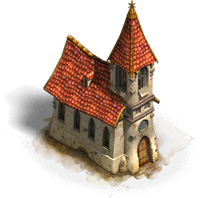 V • E • D
The Church is currently Work In Progress and because of this its current purpose is yet unknown.
Description
When looking at the previous The Settlers games one can safely presume the church will produce a new type of Settlers.
Original Settlers
In the original The Settlers the Church has the purpose to create scholars. These could be used to unlock certain features that the player can choose from. Of course this is all still level bound. These included a system to enhance Settlers, something that has previously been introduced in The Settlers Online. Besides this in The Settlers - Paths To A Kingdom there was a trade system, that made it possible to acquire a bunch of resources. Therefor one could presume that the Church is another part of the Science System that will introduce a wider variety of features and/or resources.
Ad blocker interference detected!
Wikia is a free-to-use site that makes money from advertising. We have a modified experience for viewers using ad blockers

Wikia is not accessible if you've made further modifications. Remove the custom ad blocker rule(s) and the page will load as expected.