Bowmaker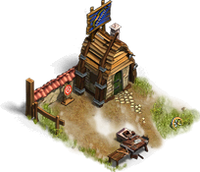 Produces bows.
V • E • D
Description
The Bowmaker turns raw Pinewood from the Pinewood Cutter into Bows. These Bows are then used at the Barracks to create Bowmen.
It is wise to get an upgraded hut placed as soon as you can and allow Bows to pile up over a period of time.
You won't use a huge amout of Bows in the game and are later mostly superceeded by the Longbow at various times.
Bowmen are handy as cheaper cannonfodder compared to losing Longbowmen and some battles versus Deserter Longbowmen really benefit from a wave of expendible archers.
Summary
| Resources | Produces | Consumed | Cycle | Construction |
| --- | --- | --- | --- | --- |
| 160    120    60 | 1 | 8   | 12 min. | 5 min. |
Upgrades
Building Movement Costs
Ratios
Appearance
Bowmaker
Level 1
Level 2
Level 3
Level 4
Level 5
Ad blocker interference detected!
Wikia is a free-to-use site that makes money from advertising. We have a modified experience for viewers using ad blockers

Wikia is not accessible if you've made further modifications. Remove the custom ad blocker rule(s) and the page will load as expected.