Angel Gate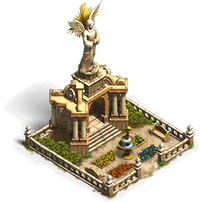 General Information
Type:
Decoration
V • E • D
Description
The Angel Gate is one of the most sought-after Decorations in the game, and is regularly sold for many thousands of Gold Coins in the Trade Office.
Obtaining an Angel Gate
The Angel Gate is an Epic reward from the Secluded Experiments adventure. There is only a 2% chance that the Angel Gate will be in the loot, making this a rare item.

Since the 2013 Christmas Event, the Angel Gate has also been available as a possible reward from a Master Architect Mystery Chest.
Ad blocker interference detected!
Wikia is a free-to-use site that makes money from advertising. We have a modified experience for viewers using ad blockers

Wikia is not accessible if you've made further modifications. Remove the custom ad blocker rule(s) and the page will load as expected.