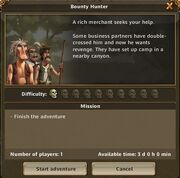 Hi folks! The Bounty Hunter adventure is maybe the first adventure that you will play. You get it with lvl26 and it's the tutorial adventure.
It's A very easy to play and you could finish it in 1-2 hours with only one general.
Adventure Info:
Player Level: 26+
Difficulty: 1/10
Number of Players: 1
Duration: 3 days
Experience Points: 202
Where to get?: Level 26 reward and you can buy a 2nd one from the store for 10 fish
'
Reward (XP 202)


'
Tactical Map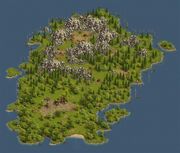 Garrison Settings
Units needed: 80C is the cheapest way (no loses).
You could also use 100R if you have no C at this time. Units lost: 0 or some R
10 Scavenger [80C]
5 Scavenger [80C]
10 Scavenger [80C]
6 Scavenger, 6 Stone Thrower [80C]
15 Scavenger [80C]
Shortcuts:
R = Recruits
C = Cavalry
Ad blocker interference detected!
Wikia is a free-to-use site that makes money from advertising. We have a modified experience for viewers using ad blockers

Wikia is not accessible if you've made further modifications. Remove the custom ad blocker rule(s) and the page will load as expected.